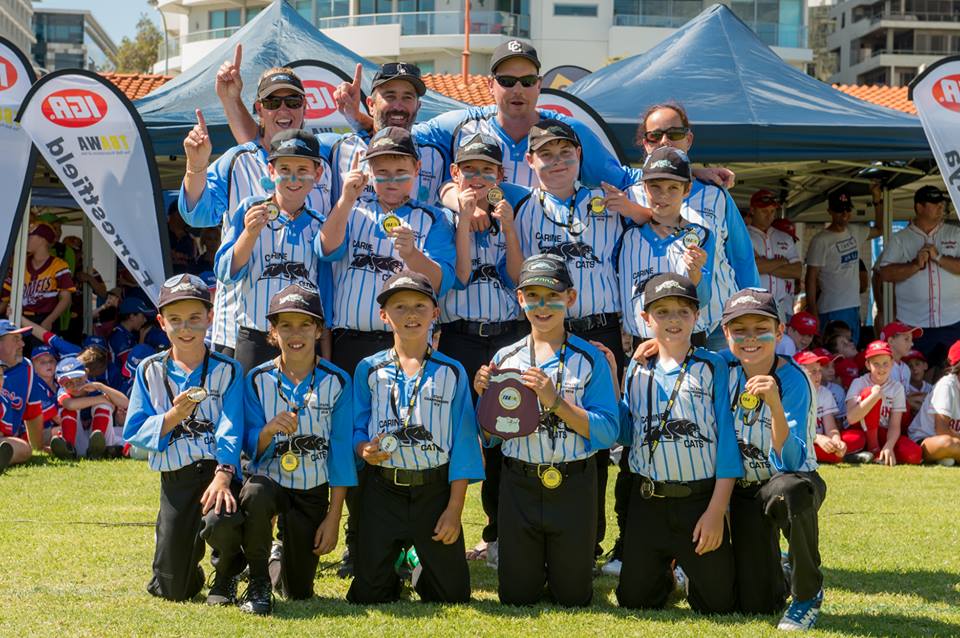 The TBAWA Tee-Ball State Championships is a competition open to all tee-ball clubs in WA. The championships will be played over the March long weekend at Langley Park in Perth.
There will be divisions for U9, U10, U11, U12 and U13s. Please note that TBAWA calculates age groups differently to Carine – see below.
Additional information is also available on the TBAWA Website.
Team tryouts
Carine team selections will take place following tryouts which are to be held on:
Tryout 1 – Sunday 1st November, 9am to 11am, at the club
Tryout 2 – Saturday November 7th, 3pm at the club
It is preferable players attend both sessions, Day 1 will be skills based and day 2 will be game scenarios, the club appreciates this may be difficult for all to attend both days respective coaches will also being looking at players interested during Saturday morning competition.
State Championships Try Out Registration Form (1)
Skill level
The championships are not just aimed at elite players, all are welcome with the clubs preference to be able to enter teams in A and B grade divisions and where numbers permit multiple teams. Remember whilst skill is important there is also a large emphasis on enthusiasm and attitude.
What are the benefits?
Enthusiastic players get to play more tee-ball – approximately 15-20 extra games
Skills development
Have fun and make new friends
Represent Carine against other clubs from across WA
Each player receives a personalised game shirt to keep, trophy and team photo
What is the commitment?
Being available for additional training each week with your state team.
Teams will nominate to play in 3 or 4 pre-state carnivals across Perth, these are held in the lead up to the Championships are are generally run on a Sunday. Teams will play up to 4 games during the course of the day.
Additional fees payable ($tba).
As with regular Saturday clubs, each team will need a coach, manager and 2 umpires (TBAWA states rules require one level 1 umpire and one level 2 umpire from each team).
More information
If you have any questions please e-mail our State Championships Co-ordinator at teeballstates@carinecats.com.au
If you would like to nominate to coach a state championships team please submit your nomination to the above e-mail address by (date tba).
 Age Group Calculations for State Championships
Tee-Ball age group eligibility is based on 30 June each year; however Carine (and the wider competition) use the 30 June before the season starts i.e. 30 June 2020 whereas TBAWA use 30 June after the season finishes i.e. 30 June 2021. This means a player may, for example, play in an under 9's competition at Carine but be under 10's when playing states.
TBAWA have an age calculator for the 2020 State Championships available on their website.  You can enter your child's date of birth on the relevant tab to confirm the age group they are eligible for at the 2020 State Championships.
If your child is attending tryouts, please use the above calculator to confirm which age group they are eligible for prior to arrival.
Below is an illustration of how age groups are calculated for State Championships.
Player born on or after 1 July 2011 will be classified as Under 9.
For Carine purposes, the player was under 9 on 30 June 2020 and therefore plays the 2020/21 season at Carine in the under 9 age group.
For State Championship purposes, the player is already 9 on 30 June 2021 and therefore plays 2021 State Championships in the under 10 age group.